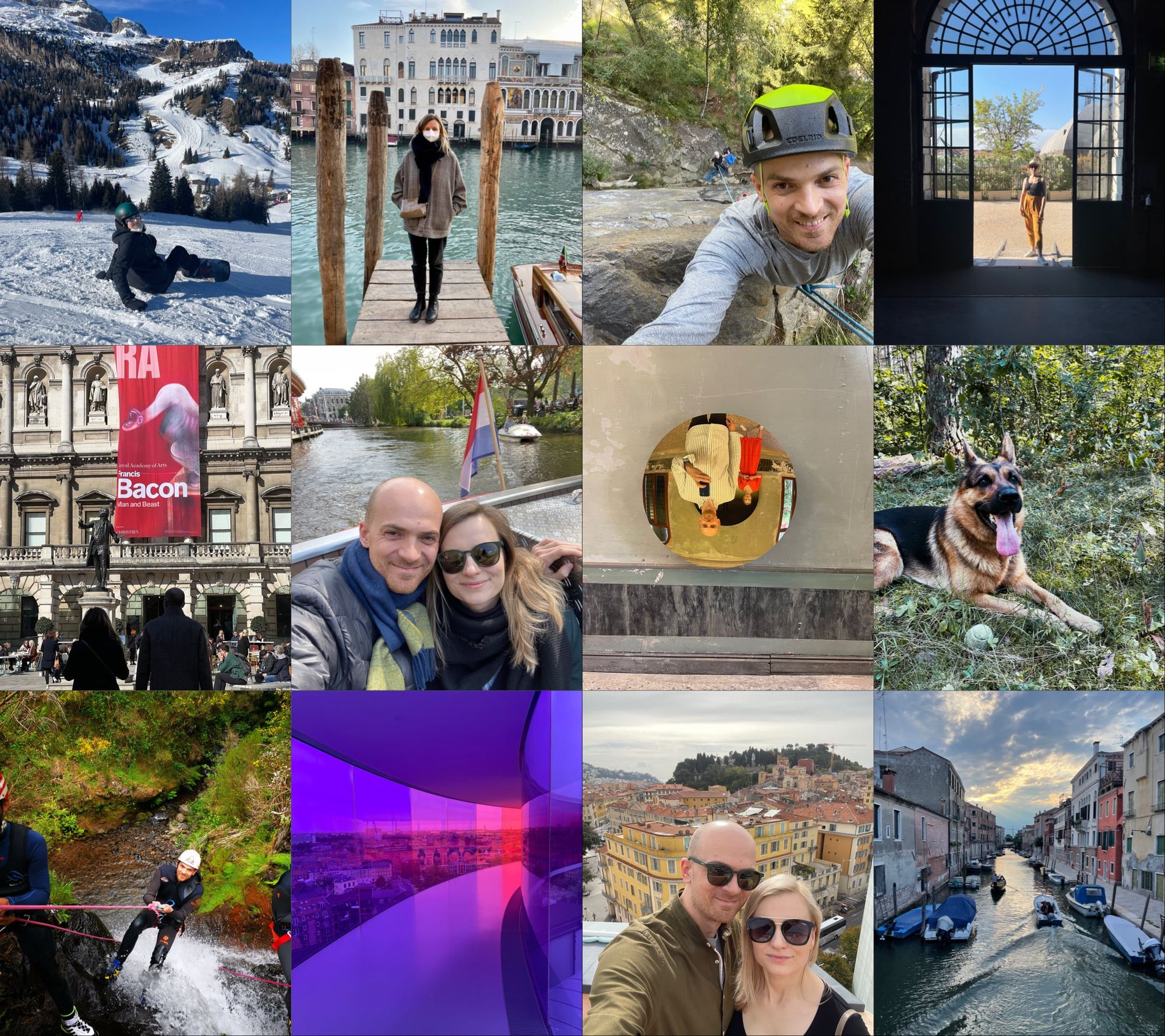 I have spent the end of the year at home with the flu. NYE cancelled. Kopa, our dog, was staying at the hotel to ensure I minimize the human contact and to preserve my energy. It was a strange feeling not to have a dog around. Home felt empty and silent.
Now Kopa is back home, and everything feels more or less mundane. It is time to reflect about the year that just wrapped.
I have mixed feelings about this year. The war that started in the first quarter disrupted the calmness. It feels like the progress of humanity has stepped back. I hate that after 10 months the war few thousand kilometers away has become the new norm. Often I feel helpless. The end does not seem in sight. The hope for justice is lost. I try to follow the news and root for the victory. Слава Україні!
Regardless of the disrupted world, my personal life did go quite well. As I was collecting the moments from the last year, I feel like there were plenty of trips and adventures.
Travel
We didn't do "big" trip this year. There were many smaller ones though: we resumed our winter slopes tradition; we have visited Venice twice; we have visited Nice for a late autumn break.
We did spend a week of our summer vacation in Madeira. It was a dissapointment. There were good parts: we hiked Pico Ruvio, drove around the island, did see beautiful nature and tried canyoning for the very first time. But overall, we felt like we were in the land where people come to spend their afternoons by the pool in enourmous resort complexes by the ocean.
We have worked-lived in Amsterdam for a week. I had big hopes for Amsterdam, but somewhat the week there was too much. There are plenty of other beatufiul cities in Netherlands that are definately on our radar.
We had a very first rock climbing trip to the mountains. We have been going to local climbing community center. We progressed slowly, but by the summer time we were ready to try out the rocks. We enjoyed it a lot. Thanks to our guide, who couched us well, we enjoyed the mountains a lot. I am hopeful it was the beginning of a new summer tradition.
Music
Covid is "over" - concerts are back. Bonobo, Caribou, Arlo Parks, Alt-J, Michael Kiwanuka, Dry Cleaning. All of them were great. I have enjoyed being in a crowd surounded by others enjoying good performance.
In 2022, I have stopped following the top trends and looked back at what is my favorite genre of music. Indie Rock and Alternative Rock is what excites me the most. I have been seeking for the great guitar sounds more and more. I've listened more old albums but enjoyed some new releases as well.
Nilüfer Yanya released a new album "Painless". It dominated my listening queue. The album was rated well by the critics. Her voice and guitar sounds make a pefect energetic combo with nostalgic mood in the songs. I wish to see her live when she tours with Painless. I missed it in 2022, but I am hopeful to see her somewhere in Europe this year.
Books
I won more time for books this year. Even though the number of read books is still low (around 15), I feel like I spent decent amout of my attention being into a book. Somehow I feel like I've broken free from pressure of reading and enjoy it just for myself. I spend quite some time exploring what to read. When I find it, I really get into book.
I continue enjoy the autobiographies. Lady Sings the Blues was great; Out of This Century: Confessions of an Art Addict has really elevated Venice experience; I am interested what Sofia Coppola will make it from Elvis and Me. Open was the one that helped me to conclude that Tennis is the sport I enjoy the most watching. Hopefully I get to see big slam finals live one day.
I am interested in continuing the journey of becoming a bigger reader. I know that I need to improve my habits to pick up a book more frequently.
Movies
I feel like I am less into movies. I remember in the old times I could watch any movie. This year, I left the cinema in the middle of the movie – it was bad, and it wasn't getting any better.
I have managed to get criterion subscription. Now I try to watch at least one old movie per month. Learning about the movie history gives an additional perspective about the current movies. Cinema Speculation was the book that also made me appreciate the impact of some old masters. Hopefully this interest continues.
Favorite movie? Hard to say. But there were really great gems in movie festivals through out the year. Pacifiction. Godland. Boiling point. The Restless. My wish for next year is to continue the interest in indie and festival movies and educate myself about old movies.
Side projects
There weren't more time for my side projects. There is plenty of work at my day job, and as I have recapped all activites that I have done through the year, I don't feel like I have wasted time for unmeaningful activities. I am OK with not having an active side project for the time being.
Regardless, I have started Ticket Holder rewrite in Swift. It is going slow, but I really enjoy learning the native development for iOS. I plan to release Ticket Holder without any new features this year, but purely rewritten in native language for it's operating system. Ticket Holder continues to be valuable utility for me: I keep buying tickets and planning concerts, performances and other type of events for 2023.