Poor Man's Podcasting Setup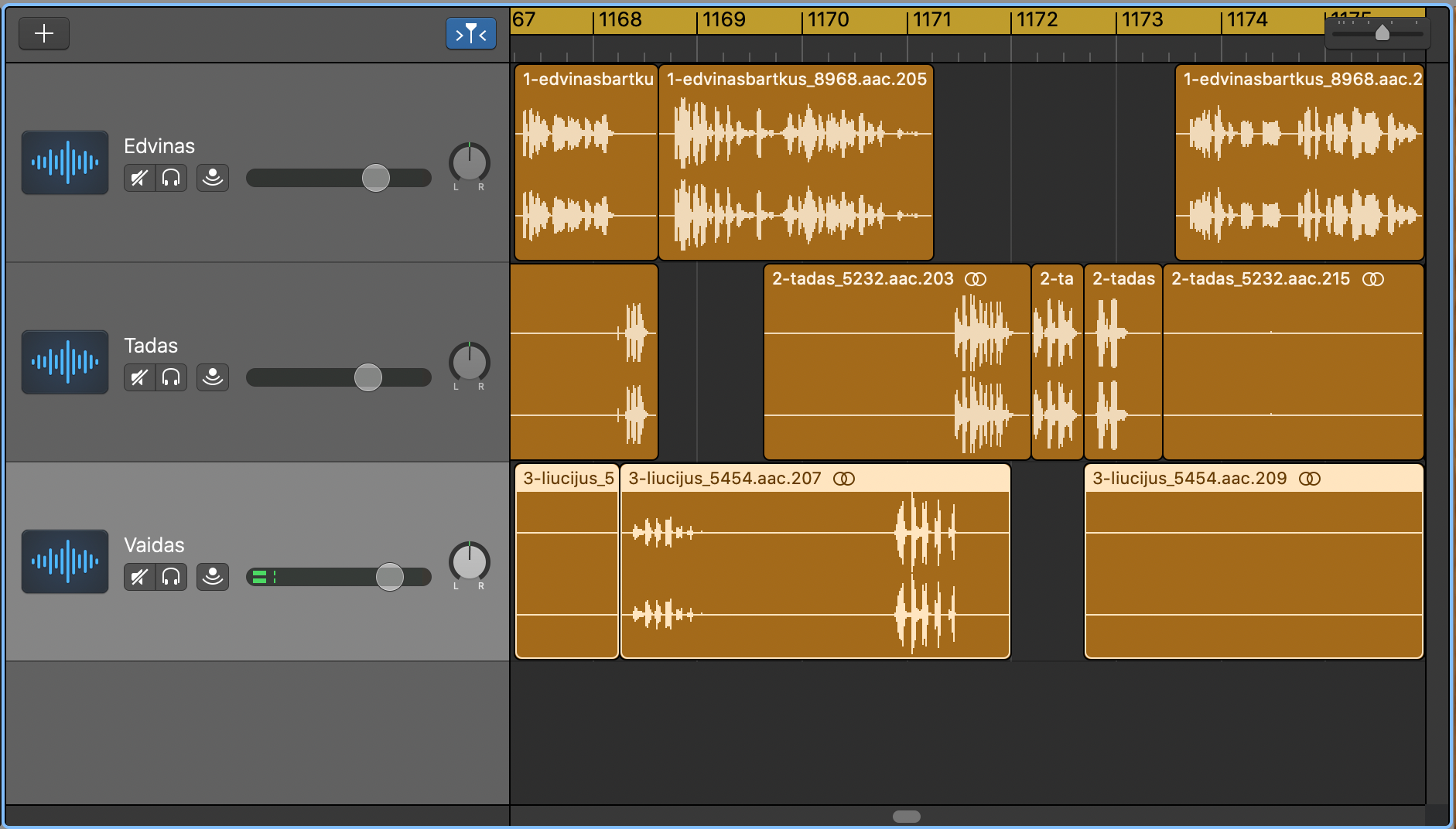 In the winter of 2018/2019, I have met two of my engineer friends for drinks. After a few rounds of drinks, we discussed that it would be rather fun to try out and launch a podcast. It seemed like in 2019 everyone started a podcast. For us, the podcast is the reason to catch up and to have a fun discussion not just once or twice a year but every month or so.
We did not have the intention to run it as a professional project. Therefore we tried to keep it as lean as possible. We had to look for the best setup to record it, prepare it and publish it. Here are my notes on how we do it and how we keep at the cost of almost zero.
Recording
It's a three host show. Since we all are not based in the same city we can meet occasionally for the recording. We need a remote solution to record the episode. There are a few requirements for successful recording:
we need to record every track individually. Speaking one over another is rather inevitable. With each person as a separate track, I can edit the parts that are difficult to understand.
we need to keep the recording quality as high as possible. Tools like Skype are not known for audio quality. For the perfect scenario, we seek the quality that would not let the listener understand that this is a remote call.
we need the audio tracks exported to one of the free to use apps for the edit (Audacity, Garage Band or similar).
we need a cross-platform solution
we would like to use a free solution
After all the experiments and tests we ended up using Discord server with a special Craig bot that records our audio channel. Discord works well on the Mac and Linux platforms that we use. Audio quality is rather high and Craig bot for Discord records each track separately.
Anyone can add a Craig bot to their Discord server, use a command to invite to audio channel and after you ask it to stop it will provide you with the link to download audio files in different formats.
In the beginning, we had an occurrence where Craig bot has crashed and left our audio channel. However, we did not lose what has been recorded up to the crash. Since then, Craig has worked without any problems.
Important honorable mention - Zoom. It can be the best option to fit your needs. It has an option (off by default) to record every participant as a separate audio track. Additionally, you can even get raw audio quality. Bonus, you can use video to get a better discussion experience. However, none of us had a paid subscription for Zoom. The free version would limit the recordings up to 45 minutes.
Editing
My needs for audio edits are rather low. Since I am not an audiophile I do not do a lot of mixing on the equalizer. Most of the work is cuts and edits of what is being said.
I have tried to work with Audacity in the beginning. It has a lot of great options to improve audio quality. In the first recordings, we had some problems with the background noise. A quick search on YouTube can give plenty of videos with instructions on how to master Audiactiy's effects. However, Audacity did not work well on my Mac computer. Even though nothing was broken the interface did not feel very responsive. Once you get used to edits you want things to be in the flow but Audacity was lagging for me.
In the end, I ended up using Garage Band. It's a free app by Apple. It works fast and it's responsive. It is not as powerful as Audacity is but since most of the needs are just cut and paste for me it works flawlessly.
Hosting
In the beginning, we did not know how long our podcasting enthusiasm will last. No matter how many episodes we were going to record we wanted to make sure that those episodes would be available at any time.
An intuitive approach would have been to host the audio files on AWS S3 (maybe with CloudFront). However, we read some stories that this storage solution causes some issues for some podcast apps that fail to resume the download of bigs files on spotty internet connection. But more importantly, it complicates the process of retrieving statistics on how many downloads you get per episode.
At the time of recording the very first episode, I have learned about anchor.fm. At the same time, it was being acquired by Spotify. The service looked promising but also we were worried that we might end up locked in.
We ended up uploading all the episodes to anchor.fm only keeping our own static website that is being hosted on gitlab.com as a static website. We proxy RSS feed to Anchor but it also gives a chance to change the service provider in the future if we decide to do so.
Anchor worked well and I can only recommend it for those who want to stay lean with their podcasting project. They also have an embeddable web player that has only one flaw. It does not preload audio files when going from one segment to another (you can upload multiple files for each chapter in an episode). You end up with rather long pauses between chapters. We ended up avoiding chapters after all trying to keep the episodes short with a single topic. Without a script, it's a rather challenging quest.
Conclusion
So far this setup was successful for us to record 7 episodes and we have plans for more. If you understand the Lithuanian language, I invite you to listen to our podcast. As we kept everything lean, simple and raw, we did the same with the name. It's called - "Podas Kestas".
So far, it was a fun experience to have it as a side project. I did expect there were more tools in the podcasting industry to simplify the process. Nevertheless, it's possible to do it at a very low cost. However, it still requires time and dedication to make it.